Ad blocker interference detected!
Wikia is a free-to-use site that makes money from advertising. We have a modified experience for viewers using ad blockers

Wikia is not accessible if you've made further modifications. Remove the custom ad blocker rule(s) and the page will load as expected.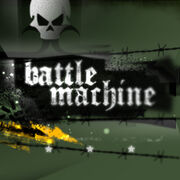 Battle Machine
is the first race organization that appears in
Need for Speed: ProStreet
. Their race events are usually held with their distinct military colour scheme. The inflatables they have are basically pigs in camouflage fatigues with helmets and ocean mines. Their slideshows and billboards feature their name and surrounded by barbed wire, skulls, stars, and the hazmat symbols. The music they play during races is dance-punk. They feature all types of race events. They also appear in
Need for Speed: World
, with their logo being on billboards in Camden Beach and the Battle Machine
Mazda RX-7
.
Ryan Cooper must qualify for this organization by beating the D-Day event seen at the beginning of the game.
Appearances
Edit