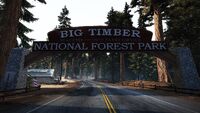 Big Timber Forest
is a region located in the central north of
Seacrest County
featured in
Need for Speed: Hot Pursuit (2010)
.
Big Timber Forest makes up the majority of the county's wooded area consisting of giant redwood trees, a general store, and campsite tourist attractions. Big Timber Pass crosses through the forest, splitting into two different roads at one segment.
Career Events
There are fix racer events and three SCPD events available through their respective Big Timber Forest nodes in career mode.
Racer Career
Event
Type
Tier
Distance
Title Fight
Duel
Sports Series
7.0 mi  (11.27 km)
The Prestige
Race
Performance Series
13.2 mi  (21.24 km)
Ageless
Preview
Exotic Series
7.8 mi  (12.55 km)
Bull Run
Time Trial
Exotic Series
9.4 mi  (15.13 km)
Slide Show
Time Trial
Exotic Series
8.4 mi  (13.52 km)
SCPD Career
Multiplayer Events
Routes
There are three routes available for multiplayer race, hot pursuit, and arms race events from the Big Timber Forest multiplayer node.
Locations
There are four locations available for multiplayer interceptor and most wanted events from the Big Timber Forest multiplayer node.
Ad blocker interference detected!
Wikia is a free-to-use site that makes money from advertising. We have a modified experience for viewers using ad blockers

Wikia is not accessible if you've made further modifications. Remove the custom ad blocker rule(s) and the page will load as expected.