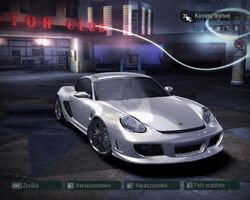 A Body kit is a collection of external visual modifications wihtin a single package. They often include spoilers and bumper sets, compared to individual packages of each modification. Bodykits can be fairly expensive but are usually good investments due to their performance and style additions.
Differences
Most Need for Speed titles feature bodykits for styling purposes and generally don't effect the performance capabilities of a car except for Need for Speed: ProStreet which allows the use of a wind tunnel when adding a bodykit.
There is an option in the Underground series between "Singular Body Kits" and "Wide Body Kits." Singular kits only include simple body modifications whilst Wide kits include the complete body of a car. Bodykits can improve the star rating for a car by four or more stars in both Underground titles.
Players are also able to convert their body kit to carbon fiber in Underground 2. This Carbon Fibre Wide Body Kit covers the whole car excluding the roof, trunk and hood.
Body Kit options in Most Wanted and Carbon only allow the player to choose a variety of full Body Kits. A vehicle's aerodynamics can be tuned from the Pause menu after a player purchases a bodykit.
Bodykits in Need for Speed: ProStreet have a huge effect on the performance of a vehicle. They often increase the complete performance level of a car and allow the player to modify it towards either downforce or drag.
List of Parts
Appearances