Decals
are stickers, usually being logos of car tuning companies. Starting from Need for Speed Underground, decals could only be put on certain parts of a car (doors, fenders and bonnet), but since the release of
Need for Speed: Carbon
, they can be moved anywhere.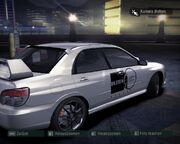 Decals are available in either white or black.
In Need for Speed: Underground 2, decals raise the player's current car's star rating by .01.
Appearances
Ad blocker interference detected!
Wikia is a free-to-use site that makes money from advertising. We have a modified experience for viewers using ad blockers

Wikia is not accessible if you've made further modifications. Remove the custom ad blocker rule(s) and the page will load as expected.