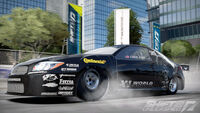 Drag
is a race event type featured in a number of Need for Speed titles.
Drags races see players having to manually change gear as they race against others to the finish line along a straight track. Players will lose the event if they total their vehicle by overheating the engine, crash into an obstacle or start too early.
The player will start in a certain lane of a road, but they can change lane by tapping the steering in their desired direction. Players are encouraged to draft opponents in order to earn a short boost in acceleration.
The winner is the player that crosses the finish line first without totalling their vehicle.
Overviews
Special Events
Wheelie Competition - Players participate against each other by performing the longest wheelie possible.
Notes
Ad blocker interference detected!
Wikia is a free-to-use site that makes money from advertising. We have a modified experience for viewers using ad blockers

Wikia is not accessible if you've made further modifications. Remove the custom ad blocker rule(s) and the page will load as expected.