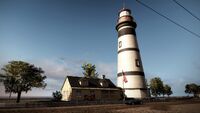 Grand Ocean Coast
is a region located along the southwestern coast of
Seacrest County
featured in Need for Speed: Hot Pursuit (2010). Grand Ocean Road connects
Mission Beach
and
Coral Bay
with this region.
Grand Ocean Coast is less populated than Mission Beach, since it consists of seaside cliffs instead of beaches.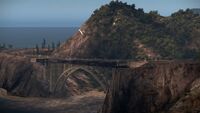 A light house, a restaurant, and a gallery are major attractions along the road's windy turns, that also make it good for drifting and
hot pursuits
.
Career Events
There are four racer events and four SCPD events available through their respective Grand Ocean Coast nodes in career mode.
Racer Career
SCPD Career
Multiplayer Events
Routes
There are four routes available for multiplayer race, hot pursuit, and arms race events from the Grand Ocean Coast multiplayer node.
Locations
There are four locations available for multiplayer interceptor and most wanted events from the Grand Ocean Coast multiplayer node.
Trivia
The Barbeau museum, located near the lighthouse, was founded in 1880, and is open from 8am until 8pm.
Ad blocker interference detected!
Wikia is a free-to-use site that makes money from advertising. We have a modified experience for viewers using ad blockers

Wikia is not accessible if you've made further modifications. Remove the custom ad blocker rule(s) and the page will load as expected.