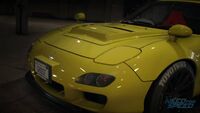 Hood
customisation is a common feature in the
Need for Speed series
. Aftermarket hoods are characterised by additional openings and are also often available in carbon-fibre trim.
Similar to other visual customisation items, custom hoods primarily serve as cosmetic enhancements for vehicles - the Underground series grants the player more Star Rating points for installing an aftermarket hood.
Most Need for Speed titles with a pursuit mode including Need for Speed: Most Wanted and Need for Speed: Carbon will lower the player's Heat Level after changing their hood.
Overviews
Notes
Ad blocker interference detected!
Wikia is a free-to-use site that makes money from advertising. We have a modified experience for viewers using ad blockers

Wikia is not accessible if you've made further modifications. Remove the custom ad blocker rule(s) and the page will load as expected.