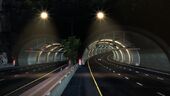 Hope Canyon Freeway
is a highway in
Seacrest County
in
Need for Speed: Hot Pursuit (2010)
.
Overview
Hope Canyon Freeway is mostly remarkable for its long curves, tunnels and secondary route - Hope Road. Several shortcuts connect the freeway with the country road. Within the road, a barricaded intersection can be found, that allows drivers to perform an immediate u-turn, being quite handy for racers in Interceptor matches.
Intersections
Gallery
Ad blocker interference detected!
Wikia is a free-to-use site that makes money from advertising. We have a modified experience for viewers using ad blockers

Wikia is not accessible if you've made further modifications. Remove the custom ad blocker rule(s) and the page will load as expected.