The Koenigsegg One:1 is a new generation hyper car currently in development by Koenigsegg. The design goal of the One:1 is to create a category class for excessively high-performance vehicles.[1]
The One:1 is based on the Koenigsegg Agera line of models with the exception of being purpose built to produce a horsepower to weight ratio of 1 to 1. The resulting ratio will propel the car from 0 to 249 miles per hour (0 to 401 km/h) in 20 seconds.
Only six examples of the One:1 will be produced, all of which have been pre-ordered and are destined for the Chinese market. The founder of the company - Christian Von Koenigsegg - said with regards to the One:1, "No one needs a car like this, they just need to want one."[2]
Changes to the Agera R based model include a larger rear spoiler and an active aerodynamic exhaust system that produces 600kg of downforce.[3] The One:1 made its first public appearance at the 2014 Geneva Motor Show in Switzerland.
Need for Speed: Rivals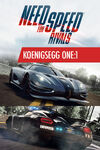 The One:1 was made available as a free downloadable vehicle for
Need for Speed: Rivals
on March 4th, 2014 as part of the Koenigsegg One:1 pack.
The player must be at least Rank 21 for either faction with the completion of 20 Assignments or 20 SpeedLists before the One:1 is made available for that side.
Three unit specifications were made available for the Redview County Police Department. The Racer One:1 can be customised with three additional liveries, although its top speed statistic can not be improved with the application of performance upgrades.
The One:1 has a maximum top speed of 281 MPH (453 km/h) with nitrous. However, its handling characteristics require caution when approaching sharp turns. It is also lacking in strength and durability.
Gallery
Images
Trailers
References
Ad blocker interference detected!
Wikia is a free-to-use site that makes money from advertising. We have a modified experience for viewers using ad blockers

Wikia is not accessible if you've made further modifications. Remove the custom ad blocker rule(s) and the page will load as expected.