Car Lights
are assembled to a front and rear of a vehicle to illuminate an area for improved visibility. Front lights are commonly known as headlights, while rear lights are known as taillights.
Need for Speed III: Hot Pursuit was the first title in the Need for Speed series to feature usable lights. The player can choose between regular illumination and full beam illumination. This feature was removed in Need for Speed: Hot Pursuit 2.
Starting with Need for Speed: Underground, any vehicle will use engaged lights, which cannot be turned off. This feature has been constantly reimported, with the exception of Need for Speed: ProStreet and the Shift series.
Vehicles in Need for Speed: Hot Pursuit (2010), Shift 2: Unleashed and Need for Speed: The Run have their lights turn off during the daytime and automatically switch them on during night time or when a vehicle enters an closed building.
Police Lightbar
Stub
 - This article section needs
expanding
with relevant information.
Indicators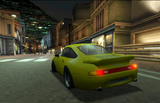 Most vehicles appearing in Need for Speed: Porsche Unleashed have usable turn lights. In most Need for Speed titles, indicators are only used by traffic vehicles to notify their change of direction.
Modifications
The Underground Series allows the player to modify their vehicle's lights. This allows them to boost their vehicle's star rating. In Need for Speed: Underground it is possible to modify the generated light beam with different colors.
Need for Speed: Underground Parts
Both headlights and rearlights are classified as level 3 visual parts. They boost a vehicle's star rating by 5.
Each headlight costs 600 game credits and can be unlocked after completing Underground Mode event #60. The model Lunar is seen with circular lights by certain models.
Taillights have the same price tag as headlights and are unlocked after completing event #61. The Nissan Skyline GT-R (R34) is equippable with unique taillights.
Headlights
Eyelids
Voltage
Projector
Lunar
Pop-up Headlights
Eyelids
Voltage
Projector
Lunar
Taillights
Crimson
Chrome
Masked
Reaper
Taillights (Nissan Skyline GT-R only)
Crimson
Chrome
Masked
Reaper
Ad blocker interference detected!
Wikia is a free-to-use site that makes money from advertising. We have a modified experience for viewers using ad blockers

Wikia is not accessible if you've made further modifications. Remove the custom ad blocker rule(s) and the page will load as expected.