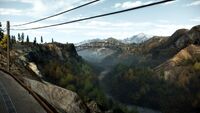 Memorial Valley
is a region located in the central east of
Seacrest County
featured in
Need for Speed: Hot Pursuit (2010)
.
Memorial Valley, also known as Route 11, spans both a desert to the south that meets with Boulder Desert, and a mountainous forest to the north that meets Big Timber Forest.
A large bridge, tunnels, a power station, a petrol station, and some houses can be found along the roadside. A fighter jet can also be seen flying past the open desert terrain.
Career Events
There are six racer events and six SCPD events available through their respective Memorial Valley nodes in career mode.
Racer Career
SCPD Career
Multiplayer Events
Routes
There are five routes available for multiplayer race, hot pursuit, and arms race events from the Memorial Valley multiplayer node.
Locations
There are four locations available for multiplayer interceptor and most wanted events from the Memorial Valley multiplayer node.
Ad blocker interference detected!
Wikia is a free-to-use site that makes money from advertising. We have a modified experience for viewers using ad blockers

Wikia is not accessible if you've made further modifications. Remove the custom ad blocker rule(s) and the page will load as expected.