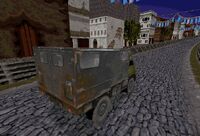 The
Unimog
is a multi-purpose mid-sized truck produced by German car manufacturer
Mercedes-Benz
.
It was developed soon after World War II as a self-propelled farm machine. It is equipped with power take-offs, a permanent AWD system and equal-sized tyres so it could travel at a higher speed on the road than tractors. It also has a 280 horsepower V6 engine.
The Unimog is featured as an AI traffic vehicle in Need for Speed II and Need for Speed III: Hot Pursuit.
Ad blocker interference detected!
Wikia is a free-to-use site that makes money from advertising. We have a modified experience for viewers using ad blockers

Wikia is not accessible if you've made further modifications. Remove the custom ad blocker rule(s) and the page will load as expected.