Mia Townsend
is one of the main characters in
Need for Speed: Most Wanted
and is portrayed by Josie Maran.
Need for Speed: Most Wanted
Edit
Mia first appears in one of the opening scenes driving a red Mazda RX-8 as the player follows her upon arriving in the city of Rockport. The player receives help from Mia after they lose their BMW M3 GTR to Razor.
She phone calls a person known as Al and takes the player to his car lot to buy a new car as well as provide a safe house located near Heritage Heights in Rosewood.
Mia will ask the player to turn a blind eye to any side bets that she places on them after beating Taz. Mia also gives the player access to the Rap Sheet and also provides many gameplay tutorials via SMS.
Mia reveals she is an undercover police officer with the Rockport Police Department after the player defeats Razor. She still assists the player out of the city to escape Cross, the Rockport Police Department and the city by releasing directions to an old drawbridge.
Mazda RX-8Edit
Modifications
Performance
Unknown
Unknown
Unknown
Unknown
Unknown
Unknown
Unknown
-
Visual
#1
5Zigen Gravis 1 20"
-
Tuner Carbon Borra
Jetstream
Unique Black Edition 2
Carbon Airomax
Gloss #44
-
Mia is portrayed by Josie Maran.
A demo of Most Wanted was shown at the 2005 E3 event. It unveiled a drag race between a BMW M3 GTR and a Mazda RX-8 which resulted in the RX-8 being totalled after hitting a roadblock. The car strongly resembles the car Mia drives in the released game.
Rog doesn't seem to trust Mia, according to one of his phone calls to the player.
An in-development rendition of the Blacklist depicts her as Blacklist racer #3.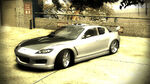 Mia's vinyl can be found in the Black Edition of the game, however, the one used in cutscenes and in presets is slightly different.
An earlier variation of Mia's Mazda RX-8 appears in the game files of Need for Speed: Most Wanted as well as some live action cutscenes. The earlier rendition is fitted with a stock carbon fibre bonnet and Konig Blatant rims.