Mission Beach
is a region located along the southwestern coast of
Seacrest County
featured in
Need for Speed: Hot Pursuit (2010)
. The eponymous road connects the area with
Grand Ocean Coast
, Hope Road, and the South Bay and Hope Canyon freeways.
It is the first region to be shown as part of the career mode with Escape to the Beach being the first racer event.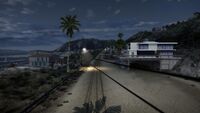 The area consists of beach houses and resorts along the road, supported by a scenic view of the mountains in the distance. A notable attraction is the amusement park on the pier, which can be reached by driving through an alternate route directly located on the beach, and fireworks will occasionally light up the sky at night in celebration.
A Hexagon gas station can be found near the eastern intersection of Mission Beach.
Career Events
There are four racer events and three SCPD events available through their respective Mission Beach nodes in career mode.
Racer Career
SCPD Career
Multiplayer Events
Routes
There are three routes available for multiplayer race, hot pursuit, and arms race events from the Mission Beach multiplayer node.
Locations
There are four locations available for multiplayer interceptor and most wanted events from the Mission Beach multiplayer node.
Trivia