Unlike Most Wanted, most vehicles can be equipped with four body kits. Classic muscle cars only have three body kits available. There are also special vehicles in the game, which can only be customized with one only.
Body kit prices differ greatly between classes. Bodykit 1 for exotics costs $2.750, for muscle cars $2.500 and for some tuners $2.250. Bodykit 2 costs $3.500 for exotics, $3.500 for muscle cars and $3.000 for tuners. Bodykit 3 and 4 cost $5.500 for exotics, $5.000 for muscle cars and $4.500 for tuners.
Some body kits are reused as widebody kits in Need for Speed: ProStreet and Undercover.
Exotics
Exotics
Alfa Romeo Brera
Aston Martin DB9
Ford GT
Jaguar XK
Lamborghini Gallardo
Lamborghini Murciélago
Lotus Elise
Mercedes-Benz CLK 500
Mercedes-Benz SL 65 AMG
Mercedes-Benz SLR McLaren
Porsche 911 Turbo
Porsche Carrera GT
Porsche Cayman S
Muscle Cars
Classic Muscle Cars
Chevrolet Camaro SS
Dodge Challenger R/T
Dodge Charger R/T
Plymouth HEMI Cuda
Shelby GT500
Modern Muscle Cars
Chevrolet Corvette Z06
Dodge Challenger Concept
Dodge Charger SRT-8
Dodge Viper SRT-10
Ford Mustang GT
Vauxhall Monaro
Tuners
Tuners
Infiniti G35
Mazda Mazdaspeed3
Mazda RX-7
Mazda RX-8
Mitsubishi Eclipse GT
Mitsubishi Lancer Evolution IX MR Edition
Nissan 240SX
Nissan 350Z
Nissan Skyline GT-R
Renault Clio V6
Subaru Impreza WRX STI
Toyota Supra
Volkswagen Golf R32
Special Exotics, Muscles and Tuners
Vehicles with one body kit
Lotus Europa S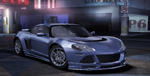 Lexus IS 300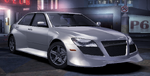 Mitsubishi Eclipse GSX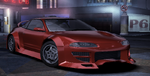 Pontiac GTO
Toyota Corolla GT-S AE86
Toyota MR2 GT-S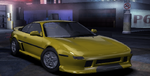 Unreleased
Unreleased
Audi A4 3.2 FSI quattro
Cadillac CTS
Porsche 911 Turbo S (996)
Porsche 911 Carrera S (997)
Volkswagen Golf GTI (Mk5)