Need for Speed: Edge is an upcoming title currently in development under EA Spearhead, formerly EA Korea, that is set to be published by Nexon in South Korea, and by Tencent in China under the title Need for Speed: Online.
The game is being developed in Korea, and will use the Frostbite 3 engine, and was first teased through a press release published in Korean by Nexon[1] on July 1, 2015.
Event Types
Single Player
Players are given a reward at the end of each event with a pack of four cards of which only one card can be selected, while another card (Blue) is always given.
World Race - The player races against A.I. opponents with additional objectives offer bonus rewards.
Free Drive - The player can practice their skills in a small open world area based on Redview County.
Multiplayer
It features various multiplayer only routes that players compete against each other along to reach the finish line first. Players can also grab power-ups along the route to use against other players or improve their current car similar to Pursuit Tech featured in Need for Speed: Rivals and power-ups featured in Need for Speed: World.
Multiplayer events are initiated through a lobby system that allows players to see the current race route, the driver level of other players, and a list of cars they can select for the event.
Speed - Players compete against each other in races and team races.
Item - Players compete against each other in a race using power-ups.
Drift - Players compete against each other to set the highest total drift score along a set route.
Catch the Tail - Two players compete to pass the other in a set amount of laps
Ranked Speed - Players compete against each other in races to earn a higher rank for a given season.
Gameplay
Nitrous
Players can earn nitrous through performing driving maneuvers such as drifting, driving in the oncoming lane, and drafting opponents. Nitrous can be used periodically to give a boost to a vehicle's acceleration and top speed.
Drift Boost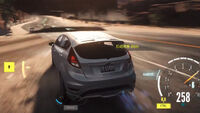 Whilst drifting, players can perform a drift boost that will give their vehicle a short nitrous boost when exiting a corner. It requires the player to perfectly time a prompt whilst drifting to earn a short drift boost.
Turbo Boost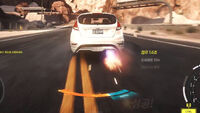 Turbo Boost is a power-up that increases the acceleration of a vehicle, but once activated it can not be deactivated until it runs out. A turbo boost can be earned by performing driving maneuvers such as drifting, driving in the oncoming lane, drafting opponents, earning air time, and jump distance.
Power-ups
In Item events, players can acquire power-ups while racing along their event route. A wide variety of power-ups can be collected; spike strips, shields, turbo. A player can only have two items at the same time.
Customisation
Parts
Players can upgrade their the performance rating of their cars by by installing parts. There are five types of parts; engine, transmission, nitro tank, bumper, and frame. Using parts upgrade materials, parts which are already installed to the car can be upgraded. Removing parts from the car requires a parts dismount card.
Wrapping
In Need for Speed: Edge, players can visit a wrapping shop in order to customise the appearance of their cars. They can change body paint colours body and rim colours, or apply wraps to a car. There are two kinds of wraps: common wraps and exclusive wraps.
Licence Plates
Licence plate numbers are made up of two numbers: individual number and distinct number. Individual number can be changed by using an individual number modifier. Distinct numbers, however, cannot be changed freely and are randomly given numbers. There are two types of licence plates:
Normal - A blue coloured licence plate.
Premium - An non-blue coloured licence plate.
Reinforcement
If a player owns two or more same cars, they can combine both cars to improve their reinforced rating, but this also requires spending currency and reinforcement may fail, resulting in losing one of the two cars.
Production
Blueprints can be gathered up to a certain target to produce a car.
Cars
Over 200 cars are targeted to be part of
Need for Speed: Edge
[2]
, with all of them split into various car classes ranging from highest (SS) to lowest (C). The car class rating system ranges from SS, S, A, B, and C.
As well as a class rating, each car is rated in five different performance factors that equate to an overall performance rating within a car class.
Soundtrack
The soundtrack features artists such as The Qemists, Fall Out Boy, The Dead Weather, and Major Lazer.
System Requirements
Component
Minimum Specifications
Recommended Specifications
OS
Windows Vista (SP2) 32-bit
Windows 7 64-bit
CPU
AMD Athlon II X2 2.8Ghz
Intel Core 2Duo 2.4Ghz
AMD Phenom II X3
Intel Core i5
RAM
4GB
8GB
GPU
AMD Radeon 3870
NVIDIA GeForce 8800GT
AMD Radeon 7870
NVIDIA GeForce GTX660
VRAM
512MB
3GB
DirectX
DirectX 10
DirectX 11
Trailers
Development
A teaser trailer was later released on November 3, 2015[3] featuring various locations previously featured in Need for Speed: Rivals' Redview County, as well as short glimpses at various vehicles.
The trailer closes highlighting the date November 12, 2015, the date when the registration for the closed beta test began.
Closed Beta
Registration for a closed beta began on November 12, 2015 and is set to end in November 22, 2015, which will be followed the closed beta session from November 26, 2015 to November 29, 2015. The closed beta will be exclusive to South Korea.
Additional beta test sessions were announced on March 8, 2016 with the first taking place from March 8, 2016 to March 20, 2016, and the second from March 24, 2016 to March 27, 2016. The second round of test sessions highlighted the inclusion of Time Attack and Hot Pursuit events.
EA Quarterly Earnings Call
Electronics Arts' quarterly earnings call for the third quarter of fiscal 2017 was held on January 31, 2017. During the call, a rundown of Electronic Arts' previous quarter was discussed, and one of the games mentioned was Need for Speed: Edge.
"
[It will] follow a similar path as that we've taken with FIFA Online.
"

— Andrew Wilson - EA CEO
Official Service
Need for Speed: Edge began official service on December 14, 2017.[4]
References