Need for Speed: High Stakes is the 4th title in the Need for Speed series. It was also released under the title Need for Speed: Road Challenge in Brazil and Europe, Need for Speed: Brennender Asphalt in Germany, Over Drivin' IV in Japan, and Conduite en état de liberté in France.
The game is only officially supported on the Windows 95 and 98 OS although it has been known to run on Windows XP, Vista, and 7 OS.
Need for Speed: High Stakes is the first Need for Speed game to include damage, which will affect the performance and appearance of a car after being involved in a collision with a wall, object or other vehicles.
Game ModesEdit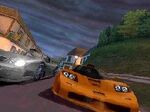 Race ModesEdit
Pursuit ModesEdit
Pursuit AI and tactics in Need for Speed: High Stakes are similar to that of the Hot Pursuit game mode with the exception of several improvements such as jersey barriers, spikebelts, traffic and flares added to roadblocks.
It is also the first title to feature police helicopters in pursuits. They cannot detect the player hiding under buildings or within tunnels. Police helicopters do not appear in the PlayStation 1 release.
Vehicles in Need for Speed: High Stakes are more detailed than seen in previous titles, as they have transparent windows, driver models and a fully modelled interior. Players can also take down the roof of a convertible in the PC release.
Like previous Need for Speed titles, every vehicle can be viewed in Showcase mode.
CustomisationEdit
High Stakes is the first title in the series to feature visual modifications on cars.
These modifications are only available as upgrade packages that include spoilers, vinyls and new wheels. They are only purchaseable in career mode.
Performance adjustments are still possible in the game, as Fine-tuning is available for every car. The new performance upgrade mechanism allows players to improve their vehicle's performance in races and even make it possible to compete against higher tiered vehicles.
Title Differences
Edit
The PC and PlayStation releases greatly differ from each other as well as several regional differences.