Decals
are a selection of visual customisation options featured in
Need for Speed: Most Wanted
.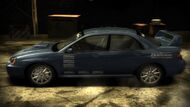 Decals can be applied to the windshield, rear window, as well as the front passenger side windows and rear quarter panels on both sides. Players can apply up to six decals on each door.
Each decal can be selected in black or white and gives the player a very small decrease of their heat level.
Options
| | Name | Availability | Cost |
| --- | --- | --- | --- |
| | Windshield/Rear Window | Defeat Blacklist racer #14 Taz | 100 |
| | Left/Right Door | Defeat Blacklist racer #13 Vic | 100 |
| | Left/Right Quarter Panel | Defeat Blacklist racer #12 Izzy | 100 |
Decal Logos
5Zigen
A'Pex Integration
AC Autotechnic
ADR Wheels
Advanced Clutch Technologies (ACT)
Advanced Engine Management (AEM)
Alpine
Apex Springs
Araxis Performance
Arospeed
Audiobahn
Avus
B&M Racing
BBS
Bilstein
Borla
Brembo
Bride
Castrol
Ceramicool
Chrom & Flammen
Clutch Masters
Cold Fusion
Comptech
Crower Cams
DC Sports
Distilled
Do-Luck
Edelbrock
Eibach Springs
Elaborare
Endless USA
Extreme Dimensions
Extreme Technology
Fastbrakes
Fidanza
GReddy
Gentera
H&R Springs
Hedman Headers
Henshin Auto
HKS USA
HP Racing
Iceman Intakes
Import Racer
Import Tuner
Injen
Intrax Suspension
Jackson Racing
Japan Tuning
JIC - Magic
JL Audio
JSP America
Kenwood
Koni
König
KVR Performance
KYB America
KZR Performance
Löwenhart
Magnaflow
Matrix Racing
Maxi Tuning
Modified Magazine
Momo
Neuspeed
NFS Most Wanted
Nitrous Express
Nology Engineering
O.Z. Wheels
PIAA
Power Slot
Racing Hart Wheels
Rev Hard
Revo Technik
RKSport
Ro_Ja Wheels
Sport Compact Car
Scorpion Exhausts
Skunk2 Racing
SLP Performance Parts
Sparco
Super Street
Stillen
Stoptech
Stratospeed
Thermal
TODA
Toyo Tires
Tuner Transformation
Turbonetics
Unorthodox Racing
Venom
VIS Racing
Volk
Weld Racing
XS Engineering
Yokohama
ZEX
Ad blocker interference detected!
Wikia is a free-to-use site that makes money from advertising. We have a modified experience for viewers using ad blockers

Wikia is not accessible if you've made further modifications. Remove the custom ad blocker rule(s) and the page will load as expected.