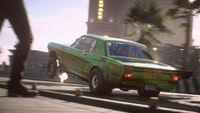 Street Leagues
are a series of racing crews with each having a specific racing style and boss. Defeating them is the only way to enter the Outlaw's Rush event.
Each league has their own style, skill level, specific event type, and a distinct base of operations within Fortune Valley. Beating all of their unique races and events will unlock an event against its boss.
Leagues
Ad blocker interference detected!
Wikia is a free-to-use site that makes money from advertising. We have a modified experience for viewers using ad blockers

Wikia is not accessible if you've made further modifications. Remove the custom ad blocker rule(s) and the page will load as expected.