"Now, credit is built with winning, rep is built with style. Upgrade your ride with visual eye candy, so everyone knows who you are when you blow by them on the finish line." - Rachel
Graphics Shops allow the player to increase their Star Rating by painting and applying stickers to the player's car.
Graphics Shops are highlighted by red street lights in free-roam mode. On the minimap, they are shown as red dots.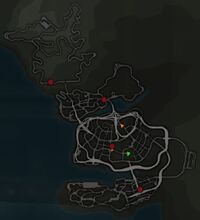 Paint, decal and vinyl upgrades give various Star Rating increases and are unlocked upon the player discovering new Graphics Shops. Unique modifications are obtainable through Outrun Races.
Upgrades
Need for Speed: Underground 2 Shops
               
Ad blocker interference detected!
Wikia is a free-to-use site that makes money from advertising. We have a modified experience for viewers using ad blockers

Wikia is not accessible if you've made further modifications. Remove the custom ad blocker rule(s) and the page will load as expected.