Need for Speed: World/Cars
Comments

0
2,148pages on
this wiki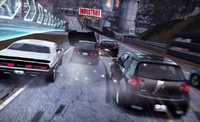 Cars
can be purchased by a player from the
Car Dealer
within the
Safehouse
or from the official Need for Speed: World website.
Cars made available through the Car Dealer can be redeemed with either earned Cash (

) or SpeedBoost (

).
Select cars are sometimes given to the player when they purchase additional SpeedBoost through the official Need for Speed: World website. This is referred to as a Top-Up.
Each vehicle is placed into one of six classes based on their overall performance with each vehicle having an alternate stock performance. A three tier performance rating system was previously used until August 22nd, 2012.
The Car Dealer features a great number of vehicle variants known as Styles. Each style icon of a vehicle denotes if it has been modified and how extensive the modifications are. Rental cars can also be purchased from the Car Dealer with SpeedBoost but are only made available to the player for a short period of time.
Special style variations are modified with aftermarket parts, performance upgrades and/or skill mods. Several modified cars in the dealership also come with unique specialties such as police lights and non-purchasable skill mods.
8C Competizione
Red
719
692
825
640
4,900
8C Competizione
A-Spec
749
777
846
825
13,000
DBS
Red
665
590
810
596
DBS
Blue
699
682
832
585
4,700
V12 Vantage
Grey
641
601
802
520
V12 Vantage
Blue
682
690
827
529
4,500
V12 Vantage
Cop Edition
700
731
838
533
5,000
A1 clubsport quattro

446
396
535
409
Unreleased
A1 clubsport quattro
Worthersee
541
539
629
457
2,800
A1 clubsport quattro
Worthersee
541
539
629
457
3,100
A3 3.2 quattro
Grey
561
555
547
583
5,100
R8 4.2 FSI quattro
Red
517
573
598
380
R8 4.2 FSI quattro
Royal Purple
530
599
617
376
Retired
R8 4.2 FSI quattro
Silver
566
667
665
367
3,400
R8 4.2 FSI quattro
Darius
589
710
696
362
3,700
R8 4.2 FSI quattro
Shift
589
710
696
362
3,700
R8 4.2 FSI quattro
Cop Edition
591
713
698
362
3,900
R8 5.2 FSI quattro
Blue
653
590
836
533
R8 5.2 Coupé FSI quattro
Red
682
683
868
497
4,600
R8 LMS ultra
W-Racing Team
759
807
897
575
6,800
RS 4
Yellow
389
389
569
209
RS 4
Blue
468
534
656
214
2,300
S5
Black
409
358
598
280
S5
Red
472
505
641
271
2,500
TT RS Coupé
Grey
428
396
598
291
TT RS Coupé
Red
496
540
661
288
2,600
TT RS
Vesna
496
540
661
288
2,600
Quattro 20 V
White
482
401
598
449
Quattro 20 V
Red
571
541
682
490
3,100
Continental Supersports
Black
699
556
807
736
Continental Supersports
White
732
643
824
731
5,000
Continental Supersports
Spitfire
748
684
832
732
5,500
Continental Supersports
Blue Juggernaut
749
683
837
729
5,500
Continental Supersports
Red Juggernaut
749
683
837
729
5,500
Continental Supersports Convertible
Grey
731
643
827
724
4,900
135i Coupé

347
352
314
376
Unreleased
135i Coupé
Flexor
485
580
518
358
2,300
1 Series M Coupé
Orange
647
539
712
692
3,900
1 Series M Coupé
Schnell
680
605
749
688
5,300
3.0 CSL Gr. 5
Silver
570
547
668
496
3,000
3.0 CSL Gr.5
Leicht
614
611
711
522
3,300
M1 Procar (1979)
Orange
710
597
862
671
M1 Procar (1979)
White
734
687
875
641
5,100
M1 Procar (1979)
Treasure Hunter
745
728
881
627
5,600
M3 GTR E46
Blue
584
567
673
513
M3 GTR E46
Silver
642
666
723
538
4,000
M3 GTR
Most Wanted
720
802
786
572
5,900
M3 GTS
White
667
586
840
576
M3 E92
Achievement
508
584
641
300
Award
M3 E92
Grip King
563
716
705
268
3,300
M3 GTS
Orange
701
677
851
577
4,700
M3 GTS
Cop
717
720
856
577
5,200
M3 Sport Evolution
Red
467
393
573
436
M3 Sport Evolution
White
565
536
668
492
3,000
M3 Sport Evolution
Brezeln
610
602
711
517
3,300
M6 Convertible
White
593
399
645
736
M6 Convertible
Blue
665
541
727
729
4,000
M6 Convertible
Monochrome
665
541
727
729
4,300
M6 Coupé
White
594
399
645
738
M6 Coupé
Blue
666
541
727
730
4,000
Z4 GT3
Team Need for Speed
696
689
855
544
4,900
Z4 GT3
Easter
696
689
855
544
Retired
Z4 M Coupé
Blue
362
307
415
364
Z4 M Coupé
Blue
362
307
415
364
Retired
Z4 M Coupé
Limited
583
679
751
321

Facebook
Promotional
Veyron 16.4
Blue
815
821
870
756
Award
CTS-V
Blue
567
545
605
553
3,200
CTS-V
Treasure Hunter
600
609
642
549
4,500
Superlight R500
White
800
816
888
697
6,900
Camaro SS
Red
362
230
446
411
Camaro SS
Blue
480
421
569
450
2,100
Camaro SS
C-Spec
499
453
589
456
5,800
Camaro ZL1
Red
507
391
614
516
Camaro ZL1
Elite
603
611
661
537
12,500
Chevelle SS
Red
327
228
440
313
Chevelle SS
Blue
430
421
562
308
1,900
Cobalt SS
Blue
267
233
306
262
Corvette Stingray
Green
482
405
513
529
Corvette Stingray
Red
559
545
600
533
3,100
Corvette Z06
Yellow
604
588
777
447
Corvette Z06
Red
638
680
802
432
4,100
Corvette Z06
Cross
653
722
813
425
4,400
Corvette Z06
The Beast (2011)
653
722
813
425
5,500
Corvette Z06 Carbon Limited Edition
Inferno Orange
646
590
848
500
Corvette Z06 Carbon Limited Edition
Supersonic Blue
675
682
873
471
4,500
Corvette Z06 Carbon Limited Edition
The Beauty (2012)
689
725
885
458
5,500
Corvette ZR1
White
674
591
811
622
Corvette ZR1
Blue
709
683
830
614
4,800
Corvette ZR1
A-Spec
749
789
852
606
8,200
El Camino SS
Blue
495
405
529
553
El Camino SS
Red
569
545
610
553
3,200
El Camino SS
Blue Juggernaut
603
609
648
554
3,700
El Camino SS
Red Juggernaut
603
609
648
554
3,700
El Camino SS
Vengeance
603
609
648
554
4,400
HEMI® 300C SRT8
Blue
485
529
644
284
2,300
HEMI 300C
Blue Juggernaut
532
596
692
308
2,800
HEMI 300C
Red Juggernaut
532
596
692
308
2,800
Challenger Concept
Orange
579
527
610
600
3,400
Challenger Concept
Cop
616
611
663
576

Top-Up
Retired
Challenger R/T
Green
175
208
153
164
Challenger R/T
Silver
303
406
337
167
800
Challenger R/T
Bruised
362
496
422
168
1,620
Charger R/T
Blue
188
127
187
251
Charger R/T
Blue
188
127
187
251
Retired
Charger R/T
Royal Purple
224
189
240
245
Retired
Charger SRT8 Super Bee
Blue
370
347
507
256
Charger SRT8 Super Bee
White
443
505
587
237
2,200
Charger SRT-8 Super Bee
Blue Juggernaut
438
579
562
175
2,700
Charger SRT-8 Super Bee
Red Juggernaut
438
579
562
175
2,700
Charger SRT-8 Super Bee
Relentless
438
578
624
229
3,500
Viper ACR
Elite Cop
747
759
865
619
20,000
Dodge Viper SRT10
Red
534
584
718
300
Viper SRT10
Blue
583
679
751
321
3,500
Viper SRT-10
Blue Juggernaut
607
723
766
332
4,000
Viper SRT-10
Red Juggernaut
607
723
766
332
4,000
Viper SRT10
A-Spec
652
810
794
352
8,900
Viper SRT10
Limited
583
679
751
321

Top-Up
Retired
Ford Capri RS3100
"Victory Lap" World Vintage Series
650
624
734
594
5,000
Crown Victoria Police Interceptor
Grey
463
368
460
562
Retired
Crown Victoria Police Interceptor
"Cruiser" Drag
583
589
610
552
3,400
Escort Mk1 RS1600 FIA Group 2
"Touring" World Vintage Series
598
594
656
546
3,200
Escort RS Cosworth
Red
454
391
563
509
Escort RS Cosworth
Blue
548
536
644
464
2,800
F-150 SVT Raptor
Blue Juggernaut
588
584
722
458
4,800
F-150 SVT Raptor
Red Juggernaut
588
584
722
458
Top-Up
Focus RS
Blue
458
396
509
469
Focus RS
Achievement
458
396
509
469
Award
Focus RS
Green
553
539
606
516
2,900
Focus RS
Pro FWD
599
606
652
539
4,600
GT
Black
590
592
760
418
GT
Red
631
684
794
417
4,000
GT
24H
650
726
809
416
4,800
GT40 Mk.1
Blue
478
407
553
476
GT40 Mk.1
Yellow
554
545
633
485
3,000
Lotus Cortina
White
582
563
598
585
4,200
Mustang Boss 302 '12
Orange
688
604
858
604
Mustang Boss 302 '12
Yellow
734
692
873
638
4,900
Boss 302 (2012)
The Boss
756
753
881
654

Starter Pack
Promotional
Mustang Boss 302 '12
Drag King
749
721
878
649
5,900
Mustang Boss 302 '69
Yellow
505
386
616
513
Mustang Boss 302 '69
White
575
532
676
518
3,300
Mustang Boss 302 '69
B-Spec
599
582
696
520
10,000
Mustang RTR-X
Team Need for Speed
763
688
844
759
5,600
Police Interceptor Sedan (Concept)

705