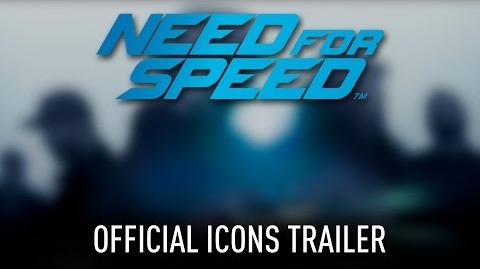 Driving Icons in Need for Speed (2015) comprise of five highly talented and influential car culture personalities.
Earning reputation for a certain driving style will allow the player to participate in events associated with a distinct driving icon.

Speed Icon
Magnus Walker
is the speed icon and drives a custom
Porsche 911 Carrera "277"
.
Style Icon
Ken Block
is the style icon and drives a custom
Ford Mustang "Hoonicorn"
.
Build Icon

Akira Nakai (アキラ中井)
is the build icon and drives a custom
Porsche 911 Carrera "Stella Artois"
.
Crew Icon
Risky Devil
is the crew icon made up of an underground street drifting crew from Chicago, Illinois comprised of Fish, AJ, Cook, Stevo, and T2. Their unique modification work has been encapsulated to create the one of a kind
Subaru BRZ "Risky Devil"
.
Outlaw Icon

Shinichi Morohoshi (モロホシ真一)
is the outlaw icon and drives a custom
Lamborghini Diablo SV
.
Ad blocker interference detected!
Wikia is a free-to-use site that makes money from advertising. We have a modified experience for viewers using ad blockers

Wikia is not accessible if you've made further modifications. Remove the custom ad blocker rule(s) and the page will load as expected.