Speed Runs
in
Need for Speed (2015)
are
activities
dotted around
Ventura Bay
. There is a total of 10 Speed Runs across Ventura Bay.
Speed Runs are highlighted by an icon representing a lighting bolt on a warning road sign. This icon will appear on the player's minimap and above a Speed Run's start line location.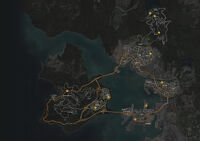 Nearing a speed run will spawn a start line and two orange flares on either side of it. Stopping close to the start line will enter the player into the speed run, and they will have to beat a target time without colliding with any walls or solid items to post a time.
Beaten speed runs will be shown on the player's phone map.
Speed Runs
| Title | Location | Target | Checkpoints | Distance |
| --- | --- | --- | --- | --- |
| Breaking Point | Royal Park | 32.00s | 6 Checkpoints | 0.55 mi  (0.89 km) |
| Carbon Fiber | South Port | 30.00s | 4 Checkpoints | 0.50 mi  (0.8 km) |
| Danger Zone | Burnwood | 28.00s | 5 Checkpoints | 0.60 mi  (0.97 km) |
| Downhill Hustle | Crescent Mountains | 27.00s | 3 Checkpoints | 0.55 mi  (0.89 km) |
| Jumper Cable | Franklin Terrace | 30.00s | 4 Checkpoints | 0.62 mi  (1 km) |
| Like Clockwork | Crescent Mountains | 26.00s | 3 Checkpoints | 0.55 mi  (0.89 km) |
| Thunder | South Port | 30.00s | 4 Checkpoints | 0.39 mi  (0.63 km) |
| Vorpal Blade | Franklin Terrace | 47.00s | 3 Checkpoints | 0.47 mi  (0.76 km) |
| Warped | Crescent Mountains | 30.00s | 4 Checkpoints | 0.62 mi  (1 km) |
| Wildlife | El Rey | 25.00s | 3 Checkpoints | 0.68 mi  (1.09 km) |