Nikki

Role
Drafter
Speciality
Mechanic
Bonuses
Race
50% bonus for
Nitrous and Speedbreaker
Career
10% discount on
car purchases

00:11

NFS Carbon - Nikki
Nikki is one of the main characters of Need for Speed: Carbon. Prior to the events of Carbon's plot, she was the player's girlfriend.
Nikki was holding onto the prize money in a bag for a race that the player was taking part in against Angie, Wolf and Kenji. Nikki was waiting in the middle of a crowd at the finish line. Before the racers arrived at the finish, the Palmont Police Department ambushed the race.
The crowd dispersed with the sudden turn of events, with Nikki getting knocked down by an unknown person, who switched her bag with an identical one.
The player drove through the crowd in an attempt to rescue Nikki. She was captured by the police, yet managed to throw the prize money bag into the vehicle. The bag is later revealed to contain newspaper scraps instead of the cash reward.
At the beginning of the career mode, when the player unsuccessfully fled from Cross and was helped out by Darius, Nikki attempts to attack the player but is hindered by Darius. He asks her to help the player to take over the perimeter of Palmont City. Subsequently, she teaches them about different crew member skills with Neville.
Later on, she learned that Darius was responsible for tipping off the police, switching the bags and ultimately ruining the reputation of the player. Nikki joins the player's crew to exact revenge on Darius and defeat his crew - Stacked Deck.
Bio
The following information were taken from the Prima Official Guide
Nikki is 19 at the time of the Hero's disappearance and 24 when the player returns, but she changed greatly in the Hero's absence. He was her first big crush and when he left, so did her innocence. Although she subsequently got together with Darius, she is not entirely sure she made the right decision. However, Darius delivered on his promise to let her race full time: the only place she feels truly free and in control of her destiny.
She is an only child, raised by her mom, who is a construction foreman. Although they used to be very close, they have grown distant since she got together with Darius. She has a "father complex"; her dad left when she was a kid, and that anger still resides a bit close to the surface. She started hanging around street racers when she was a young teenager, and her first car was a '69 Camaro. She took it apart and re-assembled her first engine when she was only 10 years old, and her first job was at a local garage frequented by street racers.
One of those racers was our Hero, whom she had a major crush on well before they started dating. He broke her heart when he skipped town at the start of their romance - her affection was reciprocated, but Hero deemed her a bit too young. She has the making of a top racer, but where she really shines is tuning cars for maximum speed.
At the time of Hero's disappearance, she'd made it on a Crew as a Junior Racer (Muscle), but she was still on the sidelines most of the time or helping tune the crew's cars. She feels that she doesn't have anything in common with people her own age and she's very competitive, doesn't expect breaks, and she hesitates to give them out as well. Although she's self-possessed and tough, she is not yet fully aware of her power and beauty; she wants to be sophisticated, but is not worldly, and although Darius is her first real boyfriend, her biggest secret is that she was saving herself for our Hero.
Vehicle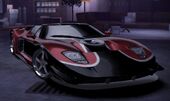 Nikki drives a red
Ford GT
with black and silver vinyls, that are similar to the Mk1
Ford GT40
's Gulf livery, which was used in the 1969 24 Hours of Le Mans. Her vehicle cannot be obtained and driven by the player.
Modifications
Modifications (Ford GT)
#1
stock
stock
iForged Aero 20"
Nikki
Dark Black
Trivia
Nikki will comment on the player, when they do not respond to her instructions during her tutorial.
Nikki is played by Emmanuelle Vaugier in-game.
A shortened version of "Don't Speak (I Came To Make A Bang)" by Eagles of Death Metal is played during Nikki's biography video.