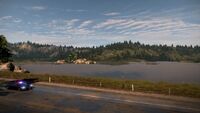 Oakmont Valley
is a region located to the north west of central
Seacrest County
featured in
Need for Speed: Hot Pursuit (2010)
.
Oakmont Valley is made up of various rocky fields and small clumps of trees dotted across its vast green landscape.
Various landmarks include the two spirals along the road through the region, and Hamilton Reservoir can be seen in the south.
Career Events
There are five racer events and two SCPD events available through their respective Oakmont Valley nodes in career mode.
Racer Career
SCPD Career
Multiplayer Events
Routes
There are four routes available for multiplayer race, hot pursuit, and arms race events from the Oakmont Valley multiplayer node.
Locations
There are four locations available for multiplayer interceptor and most wanted events from the Oakmont Valley multiplayer node.
Ad blocker interference detected!
Wikia is a free-to-use site that makes money from advertising. We have a modified experience for viewers using ad blockers

Wikia is not accessible if you've made further modifications. Remove the custom ad blocker rule(s) and the page will load as expected.