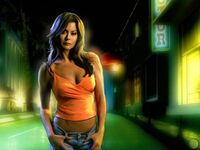 Rachel Teller is a friend of the player and Samantha. She helps the player earn reputation in the city of Bayview.
Rachel gives the player a tutorial at the beginning of Need for Speed: Underground 2 which includes how to use the SMS system, minimap and how to access events. She lets the player drive her Nissan 350Z to meet her at a car dealership.
The player can enter two race events, enter outruns and a hidden race in Rachel's car to earn money. Rachel becomes increasingly angrier at the player as they enter events but she ultimately forgives them upon reaching the car dealership.
Rachel helps the player frequently throughout the game by giving them tips on driving, secret shops, important events and sometimes hidden events.
Car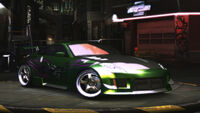 She drives a metallic green Nissan 350Z with an unique werewolf vinyl. It can be seen in the main menu if the player doesn't have a profile loaded or hasn't started Career mode yet.
Her Nissan 350Z is fitted with a "Mantis" bodykit, a "Twister" carbon-fibre hood, a set of Racing Hart CP-FTUNE R rims, an "Ace" exhaust and a Lex 42 spoiler.
Trivia
Rachel Teller is played by Brooke Burke.
A bug can cause an angry SMS message from Rachel to appear later in the game if the player returns her car to her immediately.
Rachel's 350Z can be recreated via the customisation menu.
A vague copy of Rachel's car appears in Need for Speed: World as the "Underground 2" variant of the Nissan 350Z. It doesn't feature the same vinyls or any of the same parts, aside from the colour and spoiler.
An 'Underground 2 Edition' Nissan 370Z appears in Need for Speed: The Run as a Tier 4 car in the 'Underground' Challenge Series with the same vinyls as Rachel's 350Z.
Rachel is listed as an acquaintance to Rose Largo in Need for Speed: Undercover.
In Need for Speed: Underground 2 Sha-do, Rachel drives a black Nissan 350Z featuring a gold exclusive vinyl.
 Development - Some content may have altered during development.
The game files of Underground 2 contain two unused car presets including a Mitsubishi Lancer Evolution VIII in an unfinished state and a Mazda RX-8. Both were supposed to be Rachel's cars but were later dropped during development.[1]
References
↑

Game Files: File Names (DDAY_PLAYER_CAR_OLD, DDAY_PLAYER_CAR_OLD_RX8)
Ad blocker interference detected!
Wikia is a free-to-use site that makes money from advertising. We have a modified experience for viewers using ad blockers

Wikia is not accessible if you've made further modifications. Remove the custom ad blocker rule(s) and the page will load as expected.