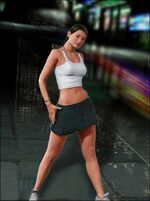 Samantha
is a storyline character featured in
Need for Speed: Underground
and mentioned in
Need for Speed: Underground 2
She first appears in the opening cutscene following the player's introduction event in Underground Mode. Samantha befriends the player and introduces them to the street racing scene in Olympic City by showing them racing rules and new races including special events with unique visual upgrade rewards.
During the later portion of Underground Mode, Eddie forces the player to race against Samantha before they can challenge him - in event 78 "Friends Are Easy To Make, And Easier To Lose", Samantha will wreck her Honda Civic Si after the player has beaten her and end their friendship in the process. Her car will be given to TJ.
Prior to the end of Underground Mode, the player must reclaim Samantha's car by beating TJ in event 110 "Good Samaritan". Samantha will then thank the player and reconcile with them. After completing all Underground Mode events, the player will be congratulated by her.
Samantha reappears in Need for Speed: Underground 2 but is only mentioned at the beginning of the career mode by Rachel. She and Samantha are revealed to be close friends.
Vehicle
Samantha drives a baby blue Honda Civic Si with design cues similar to the Hello Kitty product line. Her custom vinyl can be unlocked upon completing Underground Mode event 68. Players can unlock her Civic for Quick Race play by collecting 2,000,000 style points.
The wrecked car given to TJ keeps the colour styling but changes the design to a dying Hello Kitty theme. It is possible to unlock it by collecting 2,250,000 style points. Like the original variant, it cannot be used in Underground Mode.
Quotes
"Is that your fantasy?"
"Ouch! That is seriously weak, dude!"
"You wanna be the best? You gotta take these boys down! If you lose, you're gone! Got it? Good! Now move it!"
"Nah, this stuff's weak. Anybody can buy this crap! Trust me, you don't want this stuff."
"I TRUSTED you! And now you wanna take me on?! Well, see you at the street, PUNK!!!"
"Thanks for getting my ride back."
"Man I can't believe it, you won! You won!"
Trivia
Samantha is played by model Cindy Johnson.
Samantha is the only character in the Underground series beside the protagonist to be featured in both titles.