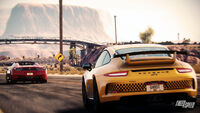 Sprint Races
(shortened as
Race
in
Need for Speed: Hot Pursuit (2010)
and
Need for Speed: Rivals
) are point-to-point race events featured in all Need for Speed titles since
Need for Speed: Hot Pursuit 2
.
Players win a sprint race by crossing the finish line first. Their progress is highlighted by either a percentage bar or the remaining distance to their destination.
Sprint races are featured in Need for Speed: ProStreet as Speed Challenge events which take place in high-speed roads.
The Shift series only features three sprint courses which are various configurations of the Nordschleife circuit, namely Aremberg, Karussell and Nurbug.
Overviews
Special Events
Notes
Ad blocker interference detected!
Wikia is a free-to-use site that makes money from advertising. We have a modified experience for viewers using ad blockers

Wikia is not accessible if you've made further modifications. Remove the custom ad blocker rule(s) and the page will load as expected.