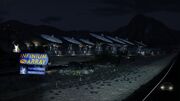 Three Points Road is a main road located at the southeastern territory of
Seacrest County
in
Need for Speed: Hot Pursuit (2010)
.
Three Points Road passes through a desert, where Infinium Array (Seacrest County Operation Center), and an airfield are located. Although the main road does not feauture any shortcuts, these facilites are accessible from the road. Near the airfield, a private jet could be seen flying. A helicopter can be seen hovering in the distance near the satellite dishes.
Intersections
Gallery
Trivia
Ad blocker interference detected!
Wikia is a free-to-use site that makes money from advertising. We have a modified experience for viewers using ad blockers

Wikia is not accessible if you've made further modifications. Remove the custom ad blocker rule(s) and the page will load as expected.