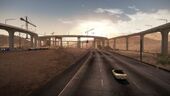 West Beach Freeway is a major highway in the western area of Seacrest County.
The highway is directly connected with Coral Bay Drive and South Bay Turnpike. Within its semi-desert territory, windmills, tunnels and a large construction area at the highway cover the landscape. Its two intersections are with Coral Bay Junction (North) and Carson Junction (South).
The long and large roads are useful for a turbo boost and for police vehicles to gain on racers. A G5 Gulfstream aircraft can occasionally be seen flying over the area.
Intersections
Gallery
Ad blocker interference detected!
Wikia is a free-to-use site that makes money from advertising. We have a modified experience for viewers using ad blockers

Wikia is not accessible if you've made further modifications. Remove the custom ad blocker rule(s) and the page will load as expected.